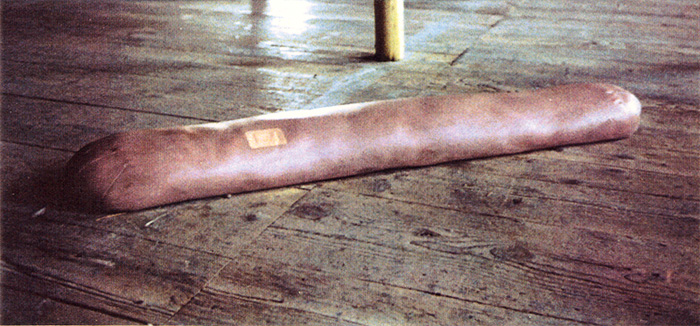 Knack was conceived for the group show "Wienerwald" at the "Bricks&Kicks" in Vienna. The object was placed just 2 steps inside the exhibition entrance where inattentive visitors were supposed to stumble over it. At the opening, unfortunately, somebody pierced an almost 1 1/2 inch hole in it with one of her high heels. The curators with a sterile strip quickly treated the wound.


Knack wurde für die Ausstellung "Wienerwald" im Wiener "Bricks&Kicks" gezeigt. Das Objekt war wenige Schritte nach dem Eingang des Ausstellungsraumes auf dem Boden plaziert. Bei der Eröffnung stolperten unzählige Besucher darüber. Ein spitzer Stöckelabsatz riss unversehens eine etwa vier Zentimeter lange Wunde im lateralen Bereich, die anschließend von der zuständigen Austellungsorganisation mittels eines Heftpflasters versorgt wurde.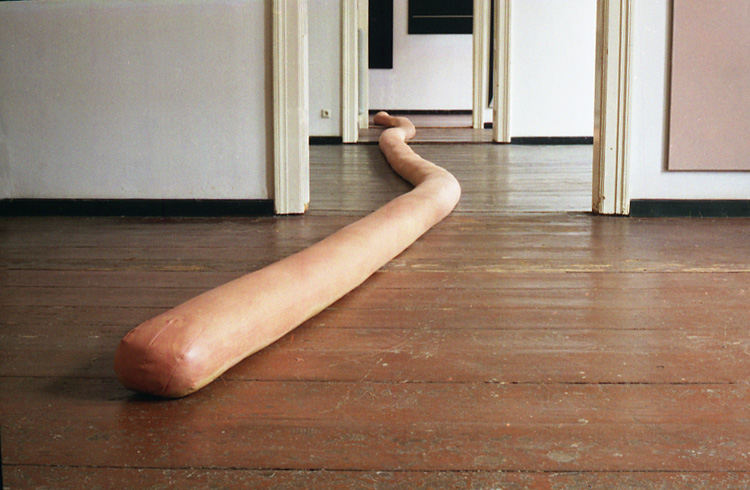 Limb has the possibility to be simultaneously present in more rooms.It was conceived as a counterpoint to the weightlessness in my Picture-Picture for the suite-like space of the gallery A4 at Wels/Austria.


Glied hat als größere Ausdehnung die Möglichkeit mehrere Räume gleichzeitig zu besetzen. Es entstand als Gegenpol zu der Schwerelosigkeit in meiner Bildbilder für den Suite-artigen Raum der Galerie A4 in Wels/Österreich.